49 pieces. square. medium difficulty. designed by a human architect.

Perfect Puzzle
Love this. Not only is it beautiful to look at, but the quality is so much better than that of a cardboard puzzle. Love that there are different ways to solve it, and also love how satisfying it is to hear the click of the pieces going together - I use this for stress relief sometimes! Also makes a great gift for someone. Great puzzle, and looking forward to seeing different ones in the future.
This puzzle is a great test of one's logic, patience, perseverance & reasoning skills. It'll drive you nuts!! It's terrifically, frustratingly addictive!
such a cool piece!!
I saw this and really wanted to get it for my reception/waiting area!! glad I did! its very unique and very pretty and fun to solve. also love the box it came in for easy storage.
Fun!
It is a different and fun way to solve a puzzle!
Pretty but sharp!
I like this puzzle but I'm worried that someone might cut themselves on it if I leave it in my waiting room as I intended. It's smaller than I pictured too. It's pretty!
Achieving Flow
Align the Mind
Step One: Turn on airplane mode. Put your favorite playlist ON. Set your hands in motion.

Activate your Flow-State
Step Two: Start with the square shaped puzzle piece in the center. Take your time or lose sense of time. Breathe, finish now or finish later. Average estimated time: 20 minutes.

Channel your Wave
Step Three: Raise the vibration and tune into desired frequency. Reclaim the rest of your day!
It's a vibe.
by the people
"Perhaps one of the most aesthetically pleasing puzzles."
"Designed to help you clear your head and sharpen your mind."
"Challenging, dizzying, and just plain beautiful. Sure to delight."
The Waves Puzzle challenge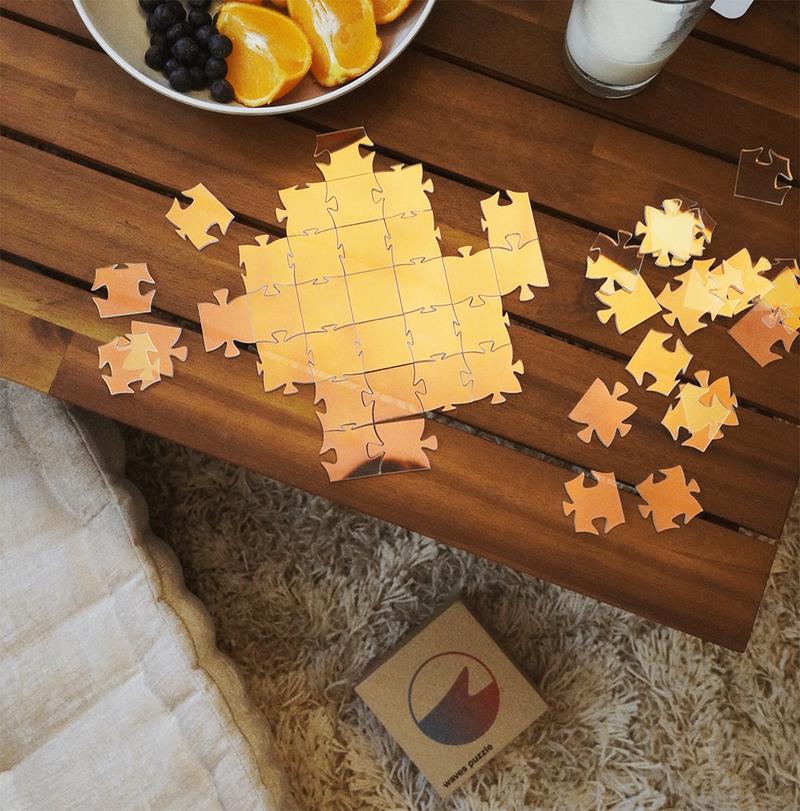 The Waves Puzzle challenge
make every day count
Today's research suggests that flow states may be linked to increased levels of happiness, satisfaction, and self-actualization. achieving flow-state can help regulate mood and emotion, and inspire greater creative and artistic pursuits.
Shop